Who is behind marbellaluxurypenthouse.com?
We are a Danish couple that fell in love with the Marbella area and bought this Penthouse apartment in 2014. We decided on this resort as it was new modern contemp and minimalistic style - and one of the few with indoor heated pool which is a must off-season - especially if you have kids. The resort has all you can ask for and it is a healthy community making sure that facilities are cared for. We decided on this Penthouse as the terrace is huge and we are here to be outside most of the time. We wanted morning sun and sun all day. We try to go here as often as possible - and combine it with vacation rental. Our cleaning lady looks after it and makes sure that it is always in a perfect condition.
We take a pride in happy and satisfied guests - and appreciate the top ratings received:

Where do I start?
The better and longer in advance you plan - the better vacation and price. High season July-September will always be more expensive - both in terms of flight, hotel/apartments and car rental. First look at our booking calendar for availability then look at flights to Malaga from you local airport. We suggest momondo.com as best overview of options.
1. First make a booking with us either with creditcard, Paypal or bank transfer.
2. Book your flight tickets to Malaga airport
3. Book a car from Malaga airport - far cheaper than taxis. Off-season car rental is very cheap. Taxis are the same.
Below on this page we have done our outmost to make a comprehensive deck with everything you will need to know about the resort and penthouse in order to prepare your perfect vacation.
How does it work with booking?
BEFORE...
Most of our guests have booked a stay via our travel partners like hotels.com and airbnb. But you will always get the best rates/prices and service if you book directly with us - we will match any price that you find elsewhere. The booking cost includes cleaning fee of 75€. Electricity and water consumption is free and also included.
We will also need to know who is staying in the apartment for security reasons and to prepare your beds. We will remind you. Finally you will receive keycode to enter the apartment - and we wish you a nice stay. We have prepared towels, water and paper free of charge to cover short term needs when arriving and ensuring a good start.
DURING...
During your stay you are always welcome to contact us - if you have any questions or need help. Our cleaning lady is very experienced and services minded. Most challenges or requests we have tried before and have a quick solution.
What to do in Marbella?
Below we have made a big selection of what to do in Marbella based on own experiences. Both as a couple or a group - with or without kids. Look at the very buttom of this page. We also appreciate recommendations and new ideas.
Departure and Arrival times?
Before arriving at the apartment please note that you have booked the apartment from 4 pm - BUT you can arrive any time after that due to 24H guarded security in the resort. Cleaning lady must have time to clean and make the apartment nice and tidy for you, after the previous guests have left the same day - so no earlier arrival than 4 pm. Please bear in mind that check out time is not later than 11.00 am, giving the cleaning lady ample time before the next guests arrive. In order not to start your stay having trouble finding the correct garage (and apartment), we suggest that you ask the security guard to help you find the right garage entrance.
Entering the resort and security?
When entering the resort there is a gate where the guard will welcome you. The entrance/gate to the resort is guarded and open around the clock (24/7/365). Please respect that you may have to present/identify yourself to the guard at the gate if he asks for your name and apartment number (1821). We have on beforehand sent a list with your names. The resort is surrounded by a tall fence which is again guarded by video cameras monitored by the security guard on duty around the clock. So you can feel safe at the resort. The security guards office phone number is: 951.271.148 (mobile: 686 348 617). Please respect their work. They are here to protect the resort and the resort guests. If you want to receive outside guests please inform the security guard or pick up your guests yourself at the gate.
Inside the apartment
In the apartment there is a door video telephone. This telephone only has connection to the front door of this apartment block 18. By the entrance you will find a shoe cabinet to your left and the storage room to your right. In the storage room you will find a power cabinet (with automatic fuses), an iron, ironing board, vacuum cleaner, extra/spare light bulbs and various cleaning articles for use on a "use and fill up" basis. Here you will also find the emergency kit, bandage and the fire blanket.
The kitchen?
The open spaced kitchen is well-equipped. You are welcome to use whatever you find in the kitchen cabinets (spices, olive oil, cleaners etc.). This is based on a "use and fill up" concept. Please note that the brand of the coffee machine is Nespresso when buying extra capsules in the supermarket. As a courtesy service we have supplied the apartment with a starting kit for your holiday, containing toilet paper, napkins, paper towels, hand soap, and cleaning soap, taps for the dishwasher, and a bottle of water in the fridge. There are also two dishcloths and three tea towels.
The laundry room? From the kitchen there is a door taking you to the washing machine, dryer and the foldable clothes-dryer. Both the one on the wall and the foldable clothes-dryer, you can bring to the terrace if you wish. It is not allowed to dry towels over the terrace walls or indoor doors. Cause of damage on surfaces if doing so, will be deducted from the deposit. In the laundry room you will also find the a baby bathing tub.
Washing machine – instruction manual: Manual is in the black basket in the cupboard above the oven in the kitchen.
Dryer – instruction manual: Manual is in the black basket in the cupboard above the oven in the kitchen. Please note! The dryer has a water container box in the front top left side – it has to be emptied after every single use, otherwise the dryer does not work. When you open the dryer there is a filter in front, by the door. This must be emptied after each single use for optimal functioning.
The living room?
In the living room you will find dining table with accommodations for 6.
A sofa, which can be turned into a double-bed (see instructions below)
The television with Apple TV, Google Chromecast and Play station 2. Three boxes under the television containing remotes and controllers and games for the Play station. A sofa table, with drawers containing some children play things – please put them back after use for the next guests to enjoy. On the wall next to the sofa you will find the air-condition controller.
Aircon/heater?
There is an on/off button on the outside of the controller. If you open the panels you will see various buttons.
Please use only:
1) the high/low button adjusting the volume of the aircon/heater
2) the temperature adjustment button.
Please keep doors closed when aircon or heater are in use. Please remember to switch off whenever it's not in use and before departure. In case of very high temperatures you can increase the effect of the aircon by opening the door to the aircon-room (just outside the entrance door to the apartment). Use the small key in the key chain.
Please turn off the aircon when you are not actually in the apartment.
TV – operating instructions and programmes?
The television offers a broad variety of 70 tv and radio channels. Operating instructions for the TV set : Choose TV, HDMI or AV. -TV for normal use of TV for above tv channels. -HDMI1 for use of Apple TV. -AV for use of PlayStation.
Operating instructions for the TV set :
Choose TV, HDMI or AV.
-TV for normal use of TV for above tv channels.
-HDMI1 for use of Apple TV.
-HDMI2 for use of Chromecast
-AV for use of PlayStation.
Apple TV, Chromecast and Netflix?
Control box is located under the TV set in the living room. Apple TV remote is the silver metallic unit. Press any key to turn an the Apple TV – pointing at the unit. Here you have the opportunity to watch NETFLIX, stream music, movies mirror your smartphone. For complete and best use of device please use your own iTunes account and read detailed instructions on apple.com. You may use all the free streaming channels. All other (streaming) pay-channels you will need to pay at own cost. Streaming your local/national TV channels We suggest to install the app "Unlocator" with one week free use on your smartphone. This way you can watch and stream your local tv channels. Connect via Apple TV, Chromecast or via HDMI cable.
The Play Station 2
With the Play Station 2 there are two controllers, 2 sing star microphones and 4 buzz controllers. The games in the box under the television are:
•Need for Speed – most wanted
•Lego Star Wars II •Ratatouille
•Ace racers (a buzz junior game)
•Buzz – The pop quiz
•Buzz – the schools quiz
•Buzz – the Hollywood quiz
•Buzz – the sports quiz
•Sing Star – ABBA
•Sing Star – Legend also with Danish songs
•Sing it – Disney High school musical 3
•Sing it – Disney, Hannah Montana, Camp Rock and other favourites
Please place the games in their right container after use for future guests to find them.
Wi-Fi?
There are different Wi-Fi access points:
•Movistar_PLUS_2044 (300 Mbit in apartment), password: Stated on the wall right next to the door entrance
•Samara Pool (Common/public area. Not always reliable) password: wsrt602pox
Safe for your valuables?
A safe is placed in the wardrobe next to the small bathroom. To open the safe you enter the 4 digit key box code (the code for the key box at the front door), press button A, you hear a beep, the lamp lights green and you can open the safe by turning the small handle. When closing the safe and turning the small handle back again you have locked the safe. Please do not enter a wrong code 3 times.
The two bedrooms?
Various beds
There are two double beds (and one of them can be split into two single beds) and the double Sofa bed – providing sleeping accommodations for 6 persons (adults).
In addition a floor junior mattress (size 70*160cm) and two baby cots with extra soft mattresses are provided when booked in advance.
The beds in the smaller bedroom can be split. They are held together by a clamp underneath at the end and a by double top-mattress. You may split them as you like. You remove the clamp and the double top-mattress. Each bedroom is a closed section with own bathroom, closets and drawers for you to use as you like. From each bedroom there is a door to the terrace and both with beautiful ocean view.
Note that there are electrical blinds in both bedrooms. There is a switch next to the windows for taking them up/down.
The bathrooms?
In both bathrooms you will find a shower, in the master bathroom there is also a bath tub. 1 big towels, 1 small towel and 1 pool towel are provided for each guest, toilet paper and hand soap are provided.
The terrace?
On the terrace you will find a table with accommodation for 6, a large lounge sofa, two sun beds, a grill, one removable parasol.
Grill?
The electrical grill is placed just outside the kitchen door. There are plugs outside. Please clean after use.
Resort facilities?
Opening hours for indoor pool, sauna, gym and playroom: Every day all year around from 7 am to 10 pm. More details under our "Resort section" in the main menu.
The indoor pool?
You will find separate changing rooms for men on the left side of the indoor pool and for the women on the right side. In each changing room you will find a power switch on the right side. There is also a controller for a radio system which you can switch on for entertainment. Please follow the printed instructions. You will also find closets with keys for your personal items for use while swimming, in the shower or in the sauna (see below instructions). There are two toilets, one small toilet and one handicap toilet, two sinks with hand soap and paper towels. For your safety and positive experience please read and follow the community rules for the use of the indoor pool, written on the entrance door to the indoor pool area as shown on the picture on the previous page.
The Indoor pool is usually 27-30C
Children playroom?
You'll find the playroom when entering the door on the left side of the indoor pool, and turning left and then right. There is a football table. Footballs are available at the guards. Deposit: 5 euros/ball.
Upon departure?
Cleaning
Included in your standard rental package is a clean apartment and terrace on your arrival and for up to 6 adults: two big towels, a small towel and a pool towel as well as linen for the beds. If you have a longer stay it is up to you to handle cleaning and wash linen and towels.
Check list – precautions on departure:
Place the protection sheet over the sofa
Turn off the lights and the air conditioning.
Close and lock all doors to the terrace.
Please remember to empty the garbage bin and remove the empty bottles.
Please empty the refrigerator but do not switch it off.
Leave the keys in the key box outside the entrance door to the apartment.
Emergency?
In case of emergency you may contact one of the following phone numbers:
You may ask the security guard to call for help. His phone number is: 951.271.148
If you call EMERGENCY for help yourself please inform the guard if you expect an emergency vehicle in order not to cause unnecessary delay.
General EMERGENCY number for police, ambulance, fire - 112
Local police (Policia Municipal) 092 (952 899 900)
National police (Cuerpo Nacional de Policia) 091 (952 762 600)
Civil Guard (Guardia Civil) 062 (952 770 344)
Ambulance, Medical emergency 061 (952 304 264)
Fire Brigade (Bomberos) 080 (952 774 349)
Marine rescue (Salvamento Maritimo) 900 202 202
State Hospitals:
Marbella 951 976 669/670 (Very close, see below)
Benalmadena/Fuengirola 902 505 061
Torremolinos 952 386 484
Malaga 951 290 000
Local police. They wear blue and white uniforms. They are responsible to the mayor and town hall in each municipality, and their duties include controlling local traffic and parking violations. Your local police station will provide you information on a range of queries even detail on the nearest chemist on duty.
National Police. They wear either a black uniform and a white shirt or a blue military style uniform. Their duties include guarding public buildings, the Royal Family and Government figures. If you are a victim of street crime these are the police that will deal with your case. If you are a victim of such crime, you need to make a statement (denuncia) at a police station. Civil Guard. These are recognised by their green uniforms and are responsible for national security, customs and crowd control. You will usually see them on the motorway in either cars or on motorbikes as they do speed checks. Pharmacy open outside opening hours Please call Local Police 091 (Policia Municipal) who will be able to tell you chemist on duty and the location.
Marbella Hospitals
There are three main Marbella hospitals on the Costa del Sol: USP (private), Costa del Sol hospital (public) and Hospiten (private). All three Marbella hospitals offer modern medical equipment, emergency units, and delivery facilities. They are used to handling foreigners, so they all offer translators or have multilingual staff.
•USP HOSPITAL MARBELLA •Tel: +34 952 774 200 Location: Avda. Severo Ochoa, 22. 29603 Marbella Website: www.uspmarbella.com
•COSTA DEL SOL HOSPITAL (This hospital is very close – just down to the main road, Autovia A-7) •Tel: +34 951 976 669 or +34 951 976 670 Location: Autovía A-7 Km 187, 29603 Marbella Website: www.hcs.es
•HOSPITEN ESTEPONA •Tel: +34 952 760 600 Location: Partido de Velerin Ctra: Nacional 340, Km 162, Estepona, 29680 Website: www.hospiten.es
Facilities for wheel chair / handicap users / Disabled
As we have a family member who is using wheel chair the apartment and resort is considering all those needs. We have special equipment that will be available for you upon arrival. Ramps will be placed in the right positions whereas the other equipment will have to be mounted by yourself/your handicap assistant as this equipment has to be placed according to your specific needs . You will easily get around in wheel chair with full access to all areas in the resort. You will find special handicap toilets at the indoor pool area and one of the outdoor pool areas. After entering the resort you will find a special parking space in the basement. From here you will find wide doors (80cm) and a spacious lift (120cm deep, 100cm wide and doors 80cm). The lift takes you to the 2nd floor with direct access to the apartment. For access to other common areas you will also find a lift. Below you will find detailed description, drawing and pictures of the apartment with most important door dimensions and special equipment. If you have additional question you are more than welcome to contact us.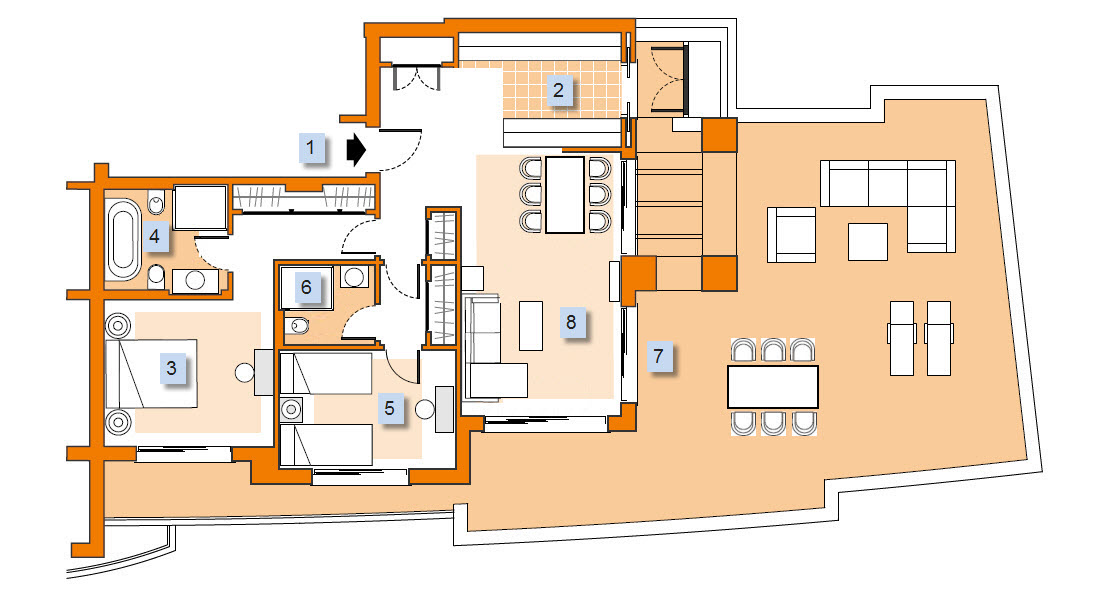 (1) Main entrance Ramps can be pre-arranged for the main door (main door is 86cm wide with free space entrance).
(2) Kitchen As it is a wide open kitchen integrated with the living room there are no limitations in terms of dimensions.
(3) Master bedroom Door opening to Master bed- and bathroom 66cm wide (net). One double bed (hight 65cm and 156 cm wide).
(4) Master bathroom Larger than the 2nd bathroom but same size shower area. Door opening 66cm wide (net).
(5) 2nd bedroom Door openinsg to bed- and bathroom are 66cm wide (net). Two separate beds (hight 65cm and 80cm wide). Flexible to be placed as one double bed or separate. This could give flexibility for access to one of the beds from both sides. Grip can be added to one bed side.
(6) 2nd bathroom (as illustrated on pictures) Toilet seat hight 43 cm incl. normal seat. Toilet seat extender can be added but you to bring it yourself. Please note it may be challenging to enter this bathroom with a wheelchair as the corridor is too narrow to turn the wheelchair into the bathroom.
(7) Door to terrace using the ramps The apartment is all in one level except for when entering the terrace from the living room to the terrace (5cm from living room and 12cm from terrace). We have ramps for both. The terrace is 95 m2 is in one plane level. Wheel chair ramps are 74 cm wide.
(8) Furniture in sitting/dining room